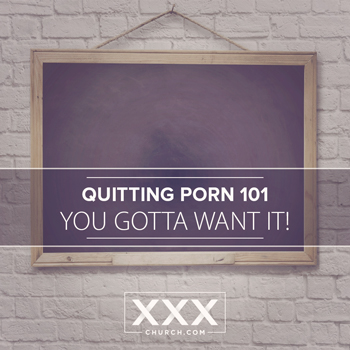 It's 7PM and there you are sitting in front of your computer screen. You look at the clock and wonder how the hell you wasted 3 hours of your day looking at porn. You think, "How could I let this happen again … especially when I want to stop so bad!"
Ever been there?
I have.
Here's the question sometimes we need to ask ourselves. Do I really want to stop?
When I was struggling with pornography and in the early stages of sobriety I'll be completely honest. The idea of never looking at porn again kinda freaked me out. I mean, life without porn? I couldn't even remember what that looked like. You see … it wasn't even so much a lack of faith or belief that I could do it.
It was being 100% certain I actually wanted to do it.
After all porn had been a pretty reliable friend. It was always there when I needed it. If I ditched porn what would be there to take its place?
I think a lot of people have a hard time quitting porn because deep down the idea scares them a bit. Quitting porn means giving up their security blanket and that's not a fun thing to think about. They fear the absence of their friend so they really never truly go after recovery. They don't REALLY want it.
Recovery is one of those things you have to walk into with an all or nothing attitude (Tweet This!).
You gotta want it. You can't kid yourself.
You can't fake it.
You have to push aside the fear and have faith that a life without porn is way better than a life with porn.
You'll never quit porn because you really don't want too.
It's the difference between knowing and actually believing. If you believe that there's more to life than 3-hour porn surfing fests in front of the computer you'll start wanting that. And REALLY wanting it is what it's all about.
Because when you do, you'll go after it full-throttle and then you'll be able to set yourself up for real success.
Here's the BIG QUESTION. Do you want it … really?
If so then do something. Here's a great a start.
Sign up for what we call the Porn-Free 30 Day Challenge. Join thousands of men and women who already have. Get five helpful emails over 30 days to help keep you on track and exclusive discounts on resources that will help you win. Sound good?
Sign up now!
The post Quitting Porn #101 – You Gotta Want It appeared first on XXXchurch.com.